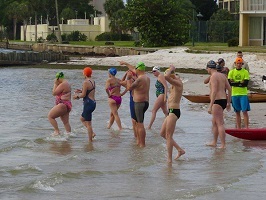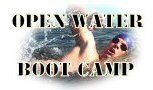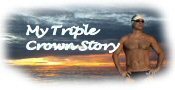 Tampa Bay Marathon Swim Records
April 16, 2016 Press Release
ST. PETERSBURG, FLORIDA, USA - High winds forced an early end to the 19th Annual 24 Mile Tampa Bay Marathon Swim. After battling for almost 3 1/2 hours on an alternate, sheltered course, organizers halted the marathon swim due to safety concerns for the swimmers, boaters and kayakers.
At the time of the race abandonment, all of the swimmers and relays that started the race were still negotiating the moderate chop off Tampa Bay's Pinellas Point. The leader was the pre-race favorite, a 25 year old that was a distance swimmer at Penn. Stephen Carroll was able to swim 8 miles by the time race was called off, shortly before 11:30am.
Stephen Carroll's support kayaker, Jason Malick, was impressed by the leader, saying, "Right out of the gate, Stephen opened a huge gap on the rest of the field. He has a flawless stroke...if I only had half of his technique in my swimming days!" At the time of the stoppage, Carroll was more than 1/2 mile ahead of the next competitor.
GPS trackers were aboard each of the support boats while they shadowed the swimmers.
There were five solo swimmers and the 6 relay teams that were forced to withdraw from the event, at 3 hours and 23 minutes:
1 Stephen Carroll, 25M, New York, NY, USA
3 Raquel Janes, 16F, Valrico, FL USA
6 Caroline Block, 32F, Baltimore, MD, USA
7 Randy Hill, 57M, Hempstead, NY, USA
9 Meenakshi Pahuja, 38F, New Delhi, India
21 Steyning Stingers Relay
Lawrence Naested, 52M, Partridge Green, W. Sussex, UK
Sarah Cotton, 48F, Steyning, W. Sussex, UK
22 Swim to Honor Relay
Jim Loreto, 43M, Bethesda, MD
Al Chororos, 42M, Washington, DC
31 Mighty Mermaids Relay
Traci Grilli, 59F, Londonderry, NH
Nancy Steadman Martin, 61F, Oceanport, NJ
Christie Ciraulo, 62F, Los Angeles, CA
Veronica Hibben, 59F, Huntington Beach, CA
Karen Einsidler, 60F, Tenafly, NJ
Jenny Cook, 58F, Los Angeles, CA
17 Gorgeous Gorgons Relay
Ann Bowers-Evangelista, 47F, Washington DC
Sharon Larkin, 50F, Acworth, GA
Cheryl Conlin, 47F, Arlington, VA
Megan Hill, 50F, Arlington, VA
James Lutz, 50M, Reston, VA
18 Beach N' Babes Waterbugs Relay
Donna Sumption 52F. Arlington, VA
Jennifer Gibbins 36F, Vienna, VA
Lori Whitehand 55F, Falls Church, VA
Melinda Moore 50F, Arlington, VA
Adele Ratcliff 50F, Springfield, VA
Kris Petersen 51F, Silver Spring MD
41 Orangeburg Pirates Relay
Franklin Fetzer, 58M, South Haven, MI
Stacey Hughes, 47F, Orangeburg, SC
Jeremy Sanders, 37M, Orangeburg, SC
Bradley Holeman, 36M, St. Matthews, SC
Gilbert Miller, 63M, Bamburg, SC
The race has been named one of America's Top 100 Open Water Swims and has been listed as one of the 30 "World Swimming Majors" by The World Open Water Swimming Association (WOWSA).
For more information about the 24 Mile Tampa Bay Marathon Swim, Visit: www.DistanceMatters.com or send email to Ron Collins, Race Director: TampaTaiko12@gmail.com
Tampa Bay area waters provide the perfect setting to train 365 days a year. If you are just beginning your open water training, or need an experienced kayaker/coach to help you acclimate to cold water, our training Boot Camp is for you!
7:41 - Chris Derks, 2002 (Overall & Men's Record)
7:51 - Penny Palfrey, 2008 (Women's Record)
18:09 - Andrew Heinrich, 2015 (Swam the Longest)
9:52 - Ron Collins, 1998 (First Swimmer)
8:34 - Gail Rice, 1998 (First Woman)
7:53 - Team Hammerhead, 2006 (Fastest 3 person Relay)
7:39 - The Sharks, 2006 (Fastest 6 person Relay)
14:21 - Carl Selles, 2014 (Oldest Male Swimmer, age 67)
10:21 - Barbara Held, 2011 (Oldest Female Swimmer, age 57)
The world's most iconic open water marathon swims are the Catalina Channel, the Manhattan Island Marathon Swim, and the English Channel.
Swimmers Meet Epic Challenge at the 19th Annual 24 Mile Tampa Bay Marathon Swim
Tampa Bay's marathon swim race is one of the world's longest, covering the length of Florida's largest estuary. The race course was altered and shortened due to wind and waves on the morning of Saturday, April 16th, 2016.
View pictures and video from The 24 Mile Tampa Bay Marathon Swim.
Since the 24 Mile Tampa Bay Marathon Swim was first staged in 1998, it has drawn competitors from across the United States, and from Great Britain, Guatemala, Italy, Mexico, Australia, Japan, Switzerland, Baliwick of Jersey, Argentina, Dominican Republic, Germany, India, Canada, and the Cayman Islands. The race is one of the world's longest marathon swims, and is held annually in April, in celebration of Earth Day.
The next 24 Mile Tampa Bay Marathon Swim will be on Saturday, April 22nd, 2017
Entry information will be available in September, 2016 to all interested solo and relay swimmers. To indicate your interest, send an email to the Race Director today!
We offer official logo T-Shirts, Cups, Hats, Hoodies, and other gifts for the whole family.